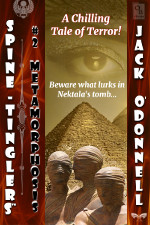 Archaeologists unearth the tomb of a mysterious Egyptian ruler and unwittingly discover a secret that threatens to transform all of humanity.
Metamorphosis is the second story in the Spine-Tinglers™ series by Jack O'Donnell, creator of the Land of Fright™ series.
Available on numerous ebook platforms. Click here for the Book2Read link to see where the story is available.