My Victorious Knight (Midsummer Knights Book 5)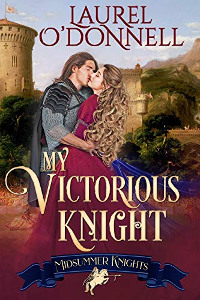 A Midsummer Knights Romance: A Tournament World of Chivalry, Intrigue, and Passion
Book 5 in the A Midsummer Knights Romance series. Book 2 in the My Knight series.
Seven medieval romances. One grand tournament. Go find your champion now!
She desired only one kiss, but what she received was so much more!
Having grown up under his father's constant ridicule, Sir Julian of Helmsley is determined to be the best knight in the land. When he finally saves enough coin to enter a grand tournament and face the undefeated champion, he is confident he will win and prove to all, including his father, he is not worthless. Lady Elora of Kingston knows her place, her duty. She is destined to marry a man she hardly knows and certainly does not love. Before she weds, Elora wants to experience real passion. Just one kiss. One magical kiss. What she doesn't realize is that one kiss will change her life forever. When Julian meets Lady Elora, the sister of the undefeated champion, he becomes embroiled in two battles, one for his personal glory and one for his heart, with the outcomes of both very much in peril.
Summer, 1193. England is in turmoil, and a great tournament is scheduled near the border of Scotland and England. The greatest knights and lords from England, Scotland, Ireland, and France have gathered to compete for a great prize. There will be celebrations and jousts and feasting. It will an exhibition of chivalry and warrior skills, a breeding ground for treason…and for love.
Other books in the series:
Forbidden Warrior by Kris Kennedy — April 14
The Highlander's Lady Knight by Madeline Martin — April 28
The Highlander's Dare by Eliza Knight — May 12
The Highland Knight's Revenge by Lori Ann Bailey — May 26
My Victorious Knight by Laurel O'Donnell — June 9
An Outlaw's Honor by Terri Brisbin — June 23
Never If Not Now by Madeline Hunter — July 7