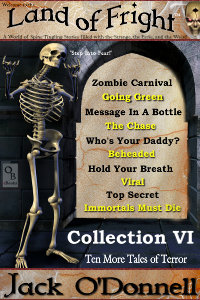 This is the sixth collection in the Land of Fright™ series of short horror stories. Land of Fright™ is intended for mature audiences.
Land of Fright™ Collection VI includes these ten horror short stories:
#51 – Zombie Carnival: Two couples stumble upon a zombie-themed carnival and decide to join the fun.
#52 – Going Green: Drug runners trying to double cross their boss get a taste of strong voodoo magic.
#53 – Message In A Bottle: A bottle floats onto the beach of a private secluded island with an unnerving message trapped inside.
#54 – The Chase: In 18th century England, a desperate chase is on as a monstrous beast charges after a fleeing wagon, a wagon occupied by too many people…
#55 – Who's Your Daddy?: A lonely schoolteacher is disturbed by how much all of the students in her class look alike. A visit by a mysterious man sheds some light on the curious situation.
#56 – Beheaded: In 14th century England, a daughter vows revenge upon those who beheaded her father. She partners with a lascivious young warlock to restore her family's honor.
#57 – Hold Your Breath: A divorced mother of one confronts the horrible truth behind the myth of holding one's breath when driving past a cemetery.
#58 – Viral: What makes a civilization fall? Volcanoes, earthquakes, or other forces of nature? Barbarous invasions or assaults from hostile forces? Decline from within due to decadence and moral decay? Or could it be something more insidious?
#59 – Top Secret: A special forces agent confronts the villainous characters from his past, but discovers something even more dangerous. Trust.
#60 – Immortals Must Die: There is no more life force left in the universe. The attainment of immortality has depleted the world of available souls. So what do you do if you are desperate to have a child?