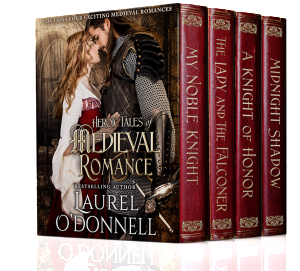 Heroic Tales of Medieval Romance: 4 Full-Length Medieval Romance Novels
This set of 4 full length medieval romance novels includes these four books written by Amazon Best-Selling author Laurel O'Donnell:
My Noble Knight
Layne Fletcher, the only girl in a family of three boys, has grown up learning to use a sword and joust, but she is not a knight. She and her brothers have been traveling from tourney to tourney to make enough coin to buy their own farm to shelter their ailing father. When her brother is found unconscious before an important tournament, Layne takes his place on the jousting field against…
Griffin Wolfe, the undefeated jousting champion. When he is unhorsed by a slip of a woman who is not a knight, he demands retribution. His honor will not allow him to let a woman be thrown in the dungeon and he has no choice but to pay her fine, ordering her to travel with him until her brothers can repay him. Griffin attempts to educate Layne in the art of being a woman, but finds he is attracted to her exciting personality and uncommon beauty despite her less than lady like ways.
But someone is trying to sabotage Griffin as he competes in the tournaments. Can Layne and Griffin discover who the culprit is while keeping their families safe and their growing attraction secret?
---
Midnight Shadow
Lady Bria Delaney
Raised on the adventurous stories of the Midnight Shadow, Bria Delaney longs to wield a sword and fight against tyranny. When the unjust rules of a neighboring lord terrorize her friends, she dons the mask and cloak of her childhood hero to right the wrongs and save them from oppression. After encountering Lord Knowles, she is stunned to find her fierce attraction to the very enemy she has secretly promised to destroy.
Lord Terran Knowles
Accustomed to victory at tournament, Terran Knowles lives a life of luxury and ease. When he returns home and finds his coin has dwindled, he must turn to an old betrothal and its dowry to keep his coffers full. Adding to his financial woes, a thief known as the Midnight Shadow strikes his land at night, stealing his coin. His intended betrothed is a headstrong, beautiful woman who immediately intrigues him. Torn between the woman he longs to trust and the outlaw he has vowed to hang, Terran vows to find the truth.
---
The Lady and the Falconer
Lady Solace Farindale
With her father at war and her stepmother ruling the castle with disinterest, Solace protects her people the best she can. When a neighboring lord lays siege to the castle, a threat on the lady's life is discovered. She turns to a man she can't resist, and puts her trust in a stranger who has captured her heart. Will she discover the secret this man holds before it is too late?
Logan Grey
Tormented by guilt and a tragic past, Logan Grey has gained access to the castle disguised as a falconer. With only revenge on his mind, he has no time for the feisty beauty who has caught his eye. In a twist of fate, and a deadly betrayal, Logan must risk his life for the lady who ignited a passion more perilous than war.
---
A Knight of Honor
Taylor Sullivan is a raven-haired hellion fleeing the tragic flames that destroyed her family. She arms herself with a quick sword and a sharp tongue, hiring herself out as a mercenary, willing to do whatever it takes to survive.
Slane Donovan is a knight of honor, sworn to uphold his oath and his word. He seeks the woman who wears the Sullivan ring, determined to bring her back to Castle Donovan to fulfill a promise made to his brother.
When he finds the fierce young beauty, her sensual innocence inflames his heart, threatening to destroy the very essence of who he is and the vows he has sworn to uphold.